On November 28th, 2015, we attended MTDDC Meetup TOKYO 2015 as a gold sponsor. Thank you to the many people who came.
During the CMS Roundtable Discussion, representatives of 5 CMS –Movable Type, WordPress, concrete5, Drupal, and a-blog cms–gave presentations. As the WordPress representative, our president Mr. Nakamura was able to answer questions about the traits of WordPress, while responding to doubts about CMS. We showed a signs with various symbols on it, such as "X" or a heart, to show how we felt about certain issues.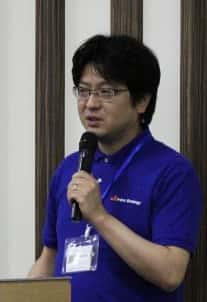 In the last presentation of the event, Mr. Nakamura gave a session entitled "CMS ON KUSANAGI", and talked about what the Ultrafast WordPress Virtual Machine KUSANAGI is, and the merits of using KUSANAGI on CMS other than WordPress. When we compared the requests per second of KUSANAGI on a CMS compared to the normal LAMP environment, we received a lot of interest in KUSANAGI. And, we ended by announcing the release of KUSANAGI for PHP 7.