Prime Strategy Co., Ltd.
Heavy Traffic Resolution for High School SNS Sakura Circle
Using the Ultrafast WordPress Virtual Machine KUSANAGI
TOKYO – May 12th, 2016 – Prime Strategy Co., Ltd. (hereby referred to as Prime Strategy) today announced it had installed its ultrafast WordPress execution environment KUSANAGI to the high school SNS Sakura Circle, created by Alice in Cyberland Inc. KUSANAGI is capable of an execution time of 3 milliseconds and 1000 requests per second without page caching.
Issues of Sakura Circle
The company had been operating with WordPress already, but once concurrent users reached about 100, access to the site became slow
Results of Using KUSANAGI
・Low cost high speed performance for SNS that can't use page caching
・A start-up was given a chance to use a lower cost low spec cloud service
・Even if they create a mobile app, speeds will not suffer
・Performance was improved just from installation
Sakura Circle's Site Framework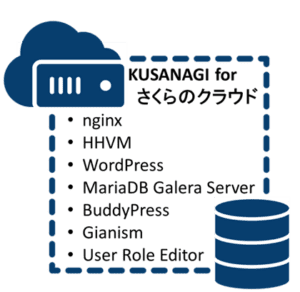 Sakura Circle uses nginx, HHVM, and MariaDB Galera Server. The site can use full SSL and HTTP/2, and makes use of the WordPress community plugin BuddyPress. It also uses the plugins Gianism and User Role Editor, specifically created for SNS.
About KUSANAGI for Sakura Cloud
https://kusanagi.tokyo/cloud/kusanagi-for-sakuracloud/ (Japanese only)
About KUSANAGI
https://en.kusanagi.tokyo/
About BuddyPress
https://wordpress.org/plugins/buddypress/
Comment from Haruki Igarashi, President of Alice in Cyberland
We opted for the lowest spec rental server for Sakura Circle. But from day one, whenever our access hit 100, the site could not connect to the server, and we new we had to change servers as soon as possible. Since Sakura Circle is an SNS, page caching is not an option, so we chose to use KUSANAGI to improve speeds for free a week later. As soon as we installed it, site performance immediately improved. Our reason for using a low spec server on Sakura Cloud was costs. And now that we are developing a mobile app that is already based on WordPress, we needed an environment where the app could work at the speed it needed.
Case Example Details
https://en.kusanagi.tokyo/achievements/sakura-circle/
About Ultrafast WordPress Virtual Machine KUSANAGI
KUSANAGI is a free and open source virtual machine image developed by Prime Strategy, and it is the world's fastest WordPress execution environment. Even without using page caching, a quad-core CPU WordPress execution time is 3 milliseconds and requests per second surpass 1000. If you choose to use page caching, requests per second will increase to the 60,000 range.
KUSANAGI Development Policy
More than 25% of the world's websites now use WordPress. Many people are already enjoying its merits. But on the other hand, large-scale sites have begun to wonder if they can use it, too. In order to meet their demand, we developed the world's fastest WordPress execution environment KUSANAGI.  KUSANAGI offers the latest technology and solutions as well as increased convenience and an improved operating environment for people already using WordPress. We hope to further develop KUSANAGI to make one of WordPress' merits "high speed".
About Prime Strategy Group
Prime Strategy Group is a cloud integrator solving the issues of cloud computing for global companies, beginning with Asia. With presences in Japan, Singapore, and Indonesia, we offer cloud integration services, mainly in the form of SI and MSP on cloud platforms.
On the business front, we architect web systems for government bodies as well as corporations that represent both domestic and foreign industries. These include the Japan Aerospace eXploration Agency (JAXA), the University of Tokyo, TV Asahi, Mynavi, Adobe Systems, JTB Asia Pacific, and Bank Negara Indonesia. We have also constructed many large-scale WordPress sites in Japan.
We created the Ultrafast WordPress Virtual Machine KUSANAGI from years of experience. The VM is offered for free on most major cloud platforms, and we recommend KUSANAGI Fully Managed Service as a one-stop tuning and maintenance service from server to WordPress itself.
For inquiries related to this article, please contact Kusunoki or Yoshimasa, our public relations managers at Prime Strategy.
E-mail: pr@prime-strategy.co.jp
Address  Otemachi 21 Bldg. 5F, 1-4-1 Uchikanda, Chiyoda-ku, Tokyo
URL: https://en.prime-strategy.co.jp/
TEL: 03-5577-6176 / FAX: 03-5577-6643
All products and names are registered trademarks of their respective companies.