We are a cloud integrator providing managed services and system integration services for WordPress.
Located in Tokyo, New York and Singapore, we provide cloud computing solutions for global companies. Our three main business areas are MSP(Management Service Provider), CI(Cloud Integration), and SI(System Integration).
We have extensive experience with integrating WordPress, the CMS that 60% of the web is built on. We also provide Cloud Native services and PaaS(Platform as a Service).
MSP(Management Service Provider
We offer management services for virtual machines on cloud servers, cloud native services and PaaS such as: improving their performance, security, reliability, availability, and redundancy. Also, for global companies based in Asia, we provide services in many languages for geographical communication optimization, redundancy, and increasing speed.
CI(Cloud Integration)
We provide consulting services for customers considering migrating to the cloud, helping them choose the most appropriate cloud and CDN. We also provide support for updating the OS, middleware, WordPress, themes, and plugins, as well as WAF implementation and migration to HTTPS.
SI(System Integration)
We provide web development services – from building a WordPress site to renewing a CMS site. We also analyze performance, carry out performance tuning, and develop new themes and plugins for WordPress.
Super Fast WordPress Virtual Machine KUSANAGI
The use of cloud computing and WordPress is increasing in enterprise business, bringing with it the need for greater speed, credibility, stability and safety.
KUSANAGI, the free, open source WordPress virtual machine developed by Prime Strategy, runs WordPress 10-15 times faster than the standard WordPress execution environment. As of August 2017, it is available on the following 18 cloud platforms.
Microsoft Azure, IBM Cloud, Amazon Web Services (AWS), Cloudn (NTT Communications), IDCF Cloud (IDC Frontier), SAKURA Cloud (SAKURA Internet), S-Port (Suzuyo shinwart), Z.com Cloud/ConoHa (GMO Internet), ALTUS (GMO Cloud), EX-CLOUD (NHN Techorus), NIFTY Cloud, VMware, Docker, SAKURA VPS (SAKURA Internet), CPI (KDDI Web Communications), Google Cloud Platform (GCP), HyperCloud (HYPER BOX).
Increase in adoption of KUSANAGI in the cloud
As of July 2017, there are more than 10,000 cloud servers running KUSANAGI
For more information about KUSANAGI, follow this link:
https://kusanagi.tokyo/
KUSANAGI Ready Project

Beginning in March 2016, we expanded our scope with the KUSANAGI Ready Project, where we use certain rules to evaluate WordPress themes popular in the enterprise domain for their PHP compatibility (PHP7, HHVM, PHP5), security, performance and language availability. We then publish a list of those that fulfill our criteria.
One of our main goals is to close the gap between that customers expect of IT vendors, and the reality of what those vendors are able to provide. We pride ourselves on the contribution that KUSANAGI and the KUSANAGI Ready Project are making to the IT and cloud integration industry by helping to close this gap.
For more information regarding the KUSANAGI Ready Project, please visit the following link:
KUSANAGI Ready Project Press release
https://www.prime-strategy.co.jp/information/release_kusanagi-ready/
KUSANAGI Official Support Service
KUSANAGI Official Support Service is comprised of the three basic services listed below. For each, we provide WordPress site tuning, speed improvement, security protection, and web development services for WordPress sites.
WordPress Support Plan
Support plan for WordPresssites that are not using KUSANAGI
KUSANAGI Support Plan
WordPress support for customers already running (or planning to implement)
KUSANAGI Managed Plan
WordPress site and server management including KUSANAGI cloud hosting
Service features
We provide support for our customers' WordPress sites regardless of whether they were created by the customer or by another company. As a a leading company in the WordPress ecosystem and the distributor of KUSANAGI, Prime Strategy's technological prowess and past achievements allow us to provide safe and secure support.
We also offer the KUSANAGI Ready Website Construction Service, where we build WordPress Sites on KUSANAGI with themes and plugins that meet the KUSANAGI Ready Project standards(*).
WordPress Site Construction Service
A business solution using three world-class enterprise services WordPress x KUSANAGI x KUSANAGI Ready
We build WordPress sites using KUSANAGI with themes and plugins that meet the criteria of the KUSANAGI Ready Project.
Security check, operation verified themes and plugins
The KUSANAGI Ready Project publishes a list of themes and plugins that are commonly used in enterprise, that meet certain standards for security, performance and PHP7, HHVM, PHP5 compatibility. Security checks are done by HASH Consulting, an expert in web application security, and Prime Strategy handles checking PHP, performance, themes and plugins.
Contributing to the IT world through dissemination of the latest technical information
We are actively contributing to the IT industry in a variety of ways, such as publishing books and articles, and holding lectures and seminars.
Publishing books
Published a book on WordPress
basics through O'Reilly

Our book "WordPress Explained", published by O'Reilly Japan, gives a systematic description of the structure and principles of WordPress. We are also supervising the Japanese translation of "WordPress Web Application Development", also published by O'Reilly Japan.
Japan's most-read WordPress book series "WordPress Textbook"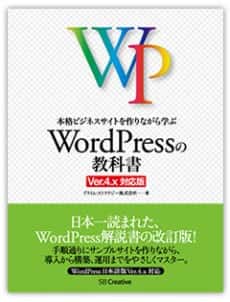 In 2012, our book "Learn WordPress While Building a Read Business Website" was selected by tech bookstore staff across the country for the CPU Grand Prize (book division). The book gained wide popularity, from those just getting started with WordPress to web development professionals. The second volume, "Learn WordPress While Building a Real Business Website 2: Smartphone Support Edition" was the number one seller on Amazon Japan. We released the fourth volume, for WordPress 4.x, in February 2015.
Contributing to IT publications
Publishing a series of web articles on IT sites
We publish articles for engineers in Japan's @IT (atmark IT) and CodeZine.
Our "Simply Fast WordPress" series was ranked #1 in @IT7s Linux & OSS category. It was also featured on Yahoo! Japan News.
Holding Lectures and Seminars
We hold many lectures at Japan's biggest tech events
We actively participate in and facilitate lectures and technology conferences to help spread the latest technical information.