KUSANAGI Stack Business
Service
We provide services to solve the problems of companies using CMS so that they can focus on their core business.
KUSANAGI Managed Service
This is a fully managed support service that provides CMS such as WordPress and server maintenance and management in a consistent system.
Cloud Integration Services
This service provides cloud integration for Managed Service subscribers, including migration to the KUSANAGI environment and web system development.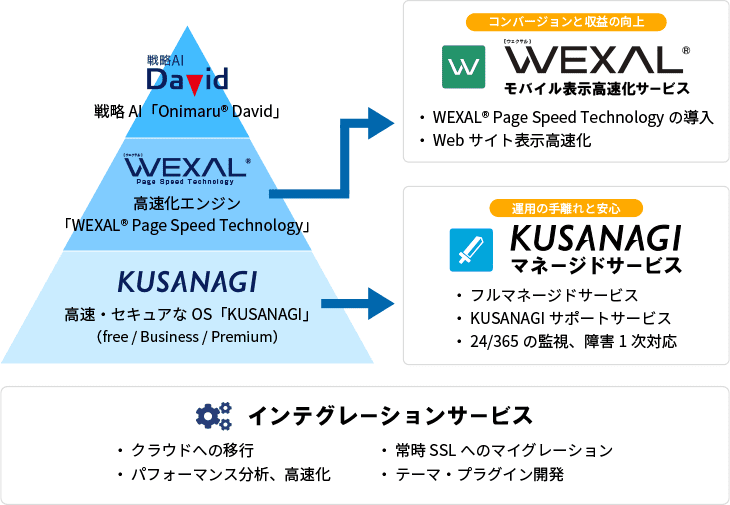 License
KUSANAGI licenses, technology, intellectual property, and brands.
KUSANAGI License
Licenses for KUSANAGI Business Edition and KUSANAGI Premium Edition, which are higher-end versions of KUSANAGI, are available through the cloud platform and our KUSANAGI Marketplace.
KUSANAGI Business Edition is designed for business use, while KUSANAGI Premium Edition is equipped with the WEXAL® Page Speed Technology® acceleration engine.
Trademarks, Intellectual Property and Brands
We license the technology, intellectual property, and brands developed by Prime Strategy.
R & D
Basic development
We develop core fundamental technologies and intellectual property rights. Our goal is to create social value by solving social issues through technology-centered mechanisms.
KUSANAGI Stack
We have developed a product line consisting of an OS, engine, and AI that solves issues such as speed, security, and cost in web operations.
The fast and secure OS " KUSANAGI ", the " WEXAL® Page Speed Technology®" speed-up engine that improves web rendering, and the " ONIMARU® David" strategy AI that automatically generates speed-up strategies will accelerate all processes of web display and reduce cloud and operation costs. The "WEXAL® Page Speed Technology®" accelerates the entire process of web display and reduces the cost of cloud computing and operations.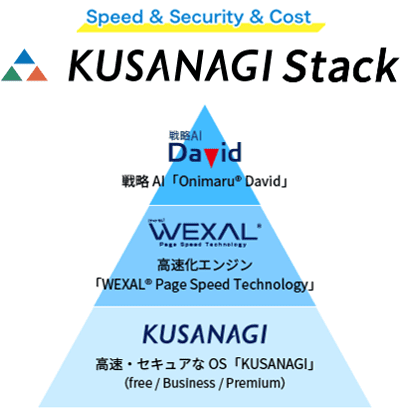 ※WEXAL® Page Speed Technology® and ONIMARU® DavidInternational application filed under the Patent Cooperation Treaty
※WEXAL® and Page Speed Technology® are registered trademarks of Prime Strategy Co., Ltd.
Hyper Automation
The technology cultivated in the development of KUSANAGI Stack is applied to each business as hyper-automation (advanced automation using AI, etc.).
KUSANAGI Cloud
KUSANAGI Cloud is an integrated management system for KUSANAGI.
Hyper-automation enables efficient operations by linking cloud platforms and various cloud services.
We are constantly updating the functions that support our services, such as automation of environment construction and migration, safe release with pre-check functions, instructions to engineers and staff for maintenance and failures, automatic execution, and management of communications.