Solving web operation issues with speed, stability, security, and automation
Do you have trouble managing an ever-increasing number of departments, groups, services, and other CMS?
With the technical capabilities of the KUSANAGI developer and the operational experience of over 150 published cases, the CMS platform is integrated and operated safely and quickly with common operational rules.
Prime Strategy's Main Construction Record – Maintenance Operation Record
Yomiuri Shimbun, Resona Bank, Sega Holdings, The University of Tokyo, Bridgestone, TV Asahi, Mitsui Sumitomo Corporation, Kakaku.com, Mercedes-Benz, and more.
Everyone's leading companies are adopting to Prime Strategy WordPress service, CMS site/system construction service, and maintenance operation service.
More than 130 public cases, WordPress site for corporate above 500 achievements, boasts the number of top class performers in Japan.
Service Lineup
We will offer you solutions that solve your issues, benefits that are consistent with your budget and priority.
Performance tuning
Introduction of cloud service
OS, Middleware Update
Always migrate to SSL
Introduction and operation of WAF
Geographical optimization by CDN
Server technical support
System design
…many others.
Full Managed Service
by KUSANAGI Developer
Born from customer's voice that, I want to focus on Web site update, utilization, Web marketing.
24 hours, 365 days contact desk service corresponding to Japanese/English/Indonesian (primary response window by telephone)
Migrate to cloud + KUSANAGI
KUSANAGI, server, WordPress operation technical support
Server monitoring, operation, and maintenance
24 hours 365 days failure primary response
Backup/Restore
…many others.
Page Loading Speed-Boost Service
Solving problems with website loading speed – from server, to application, network and rendering!
Server goes down during traffic spikes
Application processing is heavy
Ads load slowly
PageSpeed Insights score does not improve
Increasing server count means more monthly costs
Continuously working on boosting page speed and increasing PageSpeed Insights costs man-hours and increases the burden on the company
Want to use next-gen formats for images
…many others.
Introduction of Main Case
Yomiuri Shimbun Tokyo HQ
It realizes tolerance of access of 30 million PV per month.
Reduce remote site recovery to 1 hour, reduce operating costs by 50%.
Sanrio Co., Ltd.
Loading speed was also increased 10x.
Total operating costs decreased by 20%, despite new maintenance fees.
Mercedes Benz Japan
After operation "KUSANAGI", the system is stable, the vigorous information dissemination after the renewal realizes 3.5 times improvement in PV number.
Web Acceleration Technology
The ultra-high speed CMS execution environment, KUSANAGI, offers 10 to 15 times higher performance and stability than ordinary LAMP environments, reducing opportunity loss when access is concentrated and reducing cloud costs.
The WEXAL® Page Speed Technology acceleration engine optimizes network and rendering to improve UX and increase PageSpeed Insights scores.
The strategy AI "David" generates strategies for web acceleration in real time and reduces operational costs related to web acceleration.

KUSANAGI won the Tokyo Metropolitan Government's Innovative Service Special Award at the 2021 World Communication Competition held by the Tokyo Metropolitan Government.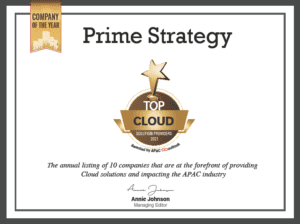 Elpida Memory named one of the Top 10 Cloud Solution Companies – 2021 by APAC CIO Outlook Magazine, the leading IT business magazine for executives in the Asia Pacific region.
→プレスリリース
Why Choose Prime Strategies?
The Leading WordPress Company
The leading company of WordPress We are actively providing the latest technical information by writing many books such as "Detailed WordPress" by O'Reilly, the world's leading authority of IT technical books. We are also actively involved in giving lectures and sponsoring technical conferences in order to disseminate the latest technical information. For the purpose of training engineers, we also hold hands-on seminars together with cloud platform operators.
A wealth of experience demonstrated by over 150 case studies
More than 150 cases of solving problems with CMS such as WordPress based on KUSANAGI. Leading companies in various fields have adopted our website construction, web system development, and website operation and maintenance services. We have built more than 500 WordPress sites for corporations, and we are one of the top companies in Japan. We can provide the best maintenance service for your business such as support by phone, 24 hours a day, 365 days a year.
Technical capabilities proven in the development of KUSANAGI
A server environment is essential to build and operate a website. As a leading company of WordPress and the developer of KUSANAGI, our one-stop solution is required by many enterprise companies. We are the leading company of WordPress and the developer of KUSANAGI.
The developer of "KUSANAGI".
We are the developer of KUSANAGI, an ultra-fast CMS execution environment. KUSANAGI has been adopted by 27 major domestic and international platforms and is available in 31 countries and 232 regions around the world. The ultra-fast CMS execution environment "KUSANAGI" boosts your web server to about 10 times faster than usual.

→About KUSANAGI
We are a partner of major domestic and international cloud services
Our Vision
PRIME STRATEGY will contribute to the improvement of your website's profitability with our hyper-automation that automates advanced CMS acceleration technology and operational know-how based on our extensive experience in managed services.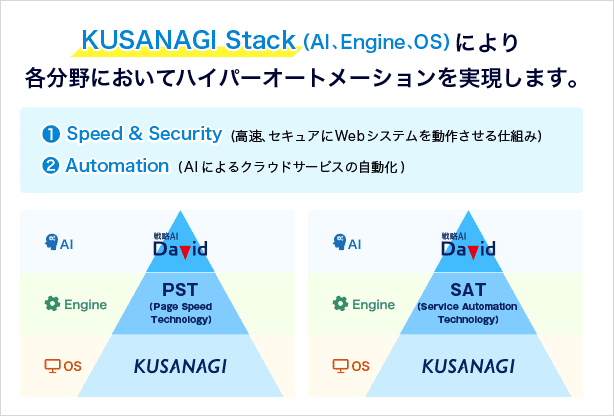 KUSANAGI Stack is a product group that consists of AI, Engine, and OS, with the ultra high-speed and secure OS "KUSANAGI" as the core. KUSANAGI Stack enables hyper-automation that combines machine learning (AI) and automation tools. The KUSANAGI Stack enables hyper-automation combining machine learning (AI) and automation tools, and provides services such as managed services and display acceleration services.