KUSANAGI 9 based on AlmaLinux OS Free Edition is now available.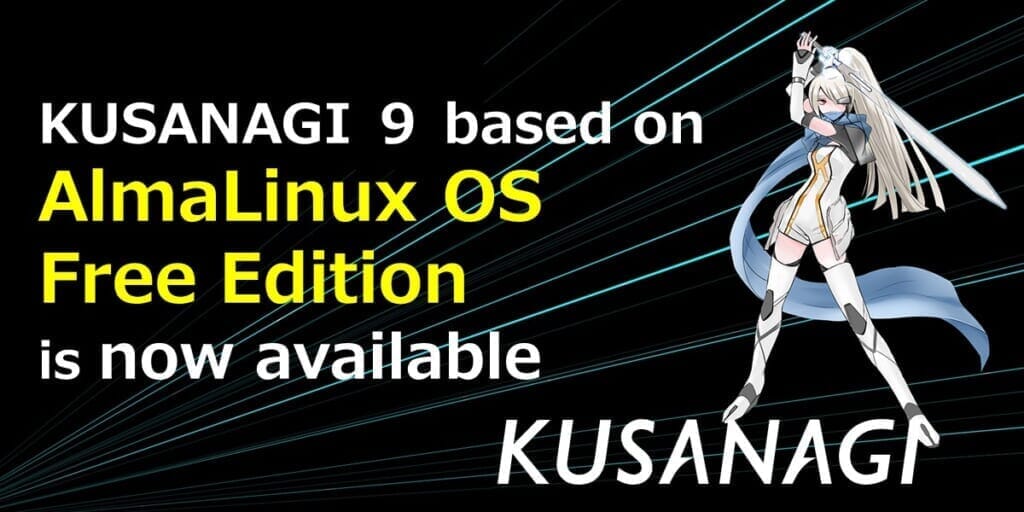 KUSANAGI 9 based on AlmaLinux OS was previously available only as a paid edition (Business Edition/Premium Edition).In order to ensure that more users can continue to use KUSANAGI, we have decided to offer a Free Edition for the based on AlmaLinux OS.
As of today, the service is available on Microsoft Azure, and we are working on making it available on AWS, GCP, and Oracle Cloud as well.
The three KUSANAGI Editions
You can choose from three different KUSANAGI editions, according to your intended application and scale.
The Free Edition is a personal use edition for those looking for an easy way to try out KUSANAGI. All of the KUSANAGI standard features are available.For business use, where security and stability are required, please use the Business Edition.
For media sites, e-commerce sites, and other sites where user experience directly affects revenue, use Premium Edition, which is equipped with "WEXAL® Page Speed Technology®" to accelerate all steps from server and application to browser rendering.
​​

Feature

​
Free Edition​​​
Business Edition​​​
Premium Edition​​​
KUSANAGI Standard Features
○​​​
○​​​
○​​​
Module updates from repositories up to CentOS Stream 8/AlmaLinux OS 8/CentOS Stream 9/AlmaLinux OS 9 EOL
x​​​
○​​​
○​​​
Tested against the latest version of WordPress release series
x​​​
○​​​
○​​​
KUSANAGI Analyze (analysis feature)
x​​​
○​​​
○​​​
KUSANAGI Container (feature to run different PHP versions)
x​
○​
○​
WEXAL® Page Speed Technology®
x​​​
x​​​
○​​​
The Ultra-fast CMS platform "KUSANAGI"
KUSANAGI is a fast and secure virtual machine image developed and provided by Prime Strategy. KUSANAGI is available in 209 regions in 34 countries, on 31 major domestic and international platforms (as of May 2023), with a cumulative total of over 80,000 units in operation (as of Octocer 2023).
KUSANAGI 9 can handle more than 25,000 concurrent requests per second (HTTP) in a typical cloud environment (*1) when using page caching, and more than 210 concurrent requests per second (both HTTP and HTTPS) when not using page caching. Compared to the standard LAMP environment (*2), the speedup is approximately 2,330 times faster when page cache is used, and approximately 20 times faster when page cache is not used.
*1 Microsoft Azure Standard D4as_v4instance (2.35Ghz AMD EPYC 7452 processor 4 vCPU, 16GiB), Premium SSD LRS, East Japan Region, KUSANAGI 9.1.0-1, PHP 7.4.27, Nginx 1.21.4, MariaDB 10.5.13, WordPress 5.8.2
*2: Microsoft Azure Standard D4as_v4 instance (2.35Ghz AMD EPYC 7452 processor 4 vCPU, 16GiB), Premium SSD LRS, East Japan Region, CentOS 7.9.2009, PHP 5.6.40, Apache 2.4.6, MariaDB 5.5.68, WordPress 5.8.2