KUSANAGI 9 is now supports with Movable Type 8, the latest version of Movable Type released today (November 1, 2023).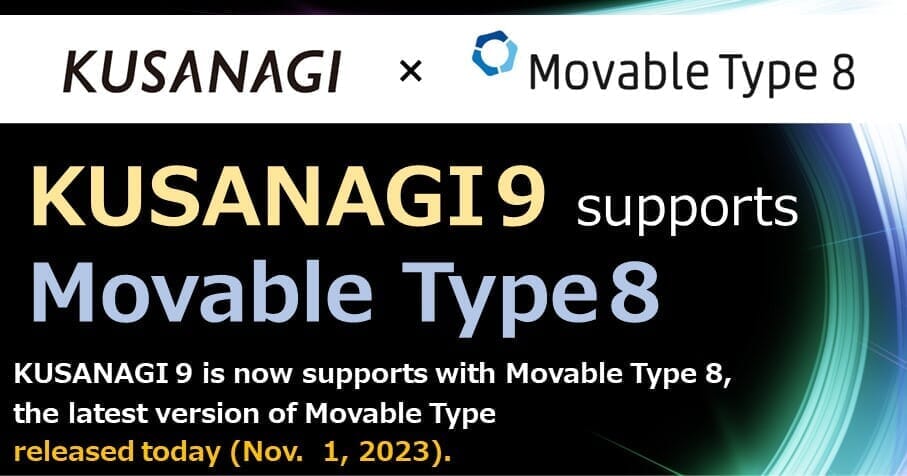 Movable Type" is one of the leading commercial licensed packaged CMS offered by Six Apart Ltd.. in Japan, and is used by many companies and organizations in Japan.
Following last year's support for Movable Type 7, we now support the latest version, Movable Type 8.
Users can easily build, initially configure, and install the latest version of Movable Type 8 environment.
Announcements from Six Apart (Japanese only) : https://www.sixapart.jp/movabletype/news/2023/11/01-1100.html
How to Use
You can provision an environment for using "Movable Type" by selecting the option for "Movable Type" when you provision "KUSANAGI". You can also specify the file name of the package installed on the server and even install it. After provisioning, follow the normal procedure to install "Movable Type".
For details, please see the document page on the official KUSANAGI website.
https://kusanagi.tokyo/document/commands/provision/
(Japanese only. English documents are being prepared.)
*"Movable Type" requires a license for use
■About Movable Type
Movable Type is a CMS platform that supports the websites of over 50,000 companies and organizations nationwide. The product lineup ranges from low-cost commercial CMS products with sufficient functionality to large-scale enterprise-oriented products.
https://www.sixapart.jp/movabletype/
Related Videos
In the video, we are setting up B, but the steps are the same.