Prime Strategy Co., Ltd.
KUSANAGI 7.7 Released with PHP 7 Support
A Free High Speed WordPress Execution Environment
TOKYO – December 9th, 2015 – Prime Strategy Co., Ltd. (hereby referred to as Prime Strategy) today announced KUSANAGI 7.7, the world's fastest WordPress execution environment capable of an execution time of 3 milliseconds and 1000 requests per second without page caching. Now with PHP 7, 200% faster than previous versions of PHP.
PHP 7 offers twice the processing performance of PHP5.6, as well as a reduction in memory utilized and strengthened resistance to heavy traffic.  If you use PHP 7 in conjunction with KUSANAGI, you can create a WordPress environment that is even more stable and compatible.
Even in the achievements that you may have plugins that are not compatible with PHP 7, you have flexibility with KUSANAGI 7.7 to switch to using PHP 5.6 and HHVM to create a practical operating environment.
Even if you have an older version of KUSANAGI you can use yum update to automatically install PHP 7 and other new features in this update.
KUSANAGI 7.7 Performance Comparison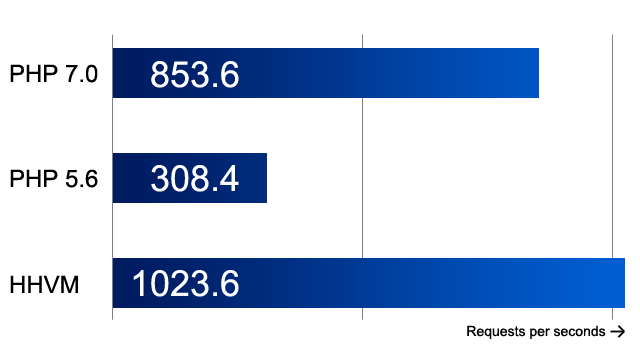 ※Performance measured on our private cloud using a quad-core CPU and 4GB memory
Average of 10 measurements using ab –n 10000 –c 100
KUSANAGI 7.7 Framework
・WordPress latest version (KUSANAGI dedicated plug-ins included)
・CentOS 7
・Nginx 1.8
・Apache 2.4
・HHVM 3.10
・PHP 7.0 (php-fpm, Cli)
・PHP 5.6 (php-fpm, Cli)
・MariaDB Galera Server 10.0
※In order to use PHP 7, you need WordPress version 4.4 or above
For more information about KUSANAGI, please visit
http://en.kusanagi.tokyo/
KUSANAGI Cloud Versions
・Microsoft Azure
・IBM SoftLayer
・Amazon Web Services
・Sakura Cloud
・ConoHa
・Z.com Cloud
・IDCF Cloud (tbd)
・Cloudn (tbd)
・S-Port (tbd)
Comment from Tadashi Yoshimasa, Representative of Engineer Certification Corporation for PHP
PHP 7 is the first major version release in almost 10 years, and it improves and advances a lot of features. PHP 7 can now be used with the Ultrafast WordPress Execution Environment KUSANAGI to gain more speed, and I believe it will help expand the PHP scene and respond to the needs of PHP engineers. At the Engineer Certification Corporation for PHP, we want to continue working with Prime Strategy and contribute to the advancement of PHP engineers' technological skill.
About Prime Strategy Group
Prime Strategy Group is a cloud integrator solving the issues of cloud computing for global companies, beginning with Asia. With presences in Japan, Singapore, and Indonesia, we offer cloud integration services, mainly in the form of SI and MSP on cloud platforms.
On the business front, we architect web systems for government bodies as well as corporations that represent both domestic and foreign industries. These include the Japan Aerospace eXploration Agency (JAXA), the University of Tokyo, TV Asahi, Mynavi, Adobe Systems, JTB Asia Pacific, and Bank Negara Indonesia. We have also constructed many large-scale WordPress sites in Japan. We created the Ultrafast WordPress Virtual Machine KUSANAGI from years of experience. The VM is offered for free on most major cloud platforms, and we recomment KUSANAGI Fully Managed Service as a one-stop tuning and maintence service from server to WordPress itself.
For inquiries related to this article, please contact Fukami or Yoshimasa, our public relations managers at Prime Strategy.
E-mail: pr@prime-strategy.co.jp
Address  Otemachi 21 Bldg. 5F, 1-4-1 Uchikanda, Chiyoda-ku, Tokyo
URL: https://en.prime-strategy.co.jp/
TEL: 03-5577-6176 / FAX: 03-5577-66433
Amazon Web Services and AWS are registered trademarks of Amazon.com, Inc.
All other products and names are registered trademarks of their respective companies.