PRESS RELEASE

Prime Strategy Co., Ltd.
KUSANAGI reaches cumulative 30,000 cloud deployments over 4 years
-KUSANAGI Business Edition also developing steadily-
The KUSANAGI WordPress Virtual Machine developed by Prime Strategy Co., Ltd. (CEO: Kengyu Nakamura, Headquarters: Chiyoda-ku, Tokyo, Japan, heretofore "Prime Strategy") is one of the world's fastest WordPress execution environments. It brings WordPress execution time to under four milliseconds, and enables 1,000 page requests/second without page caching. It is available on 28 platforms, and the measurable number of KUSANAGI units currently in operation has now exceeded 30,000.
Over the past year, Prime Strategy has been expanding KUSANAGI's features, such as by implementing WAF, in alignment with market needs. We also released KUSANAGI Business Edition, a business-oriented package that includes support features, and have broadened KUSANAGI's usability in many environments. We are also constantly keeping our modules up to date with the latest PHP, nginx and other middleware.
Most recently, we have made KUSANAGI available globally through Alibaba Cloud, allowing it to be used as a platform in China, Indonesia and many other areas. Going forward, we will continue to offer new versions that suit different use cases, such as KUSANAGI for Microsoft Azure Business Edition.
Increase in KUSANAGI Usage
According to Prime Strategy's independent investigation, 30,139 KUSANAGI units have been deployed as of 6/17/2019. This number has been increasing by 5,000 every six months, and we expect this trend to continue into the future. As cloud usage becomes more and more prevalent in different business scenes, we will continue to grow the adoption of KUSANAGI Business Edition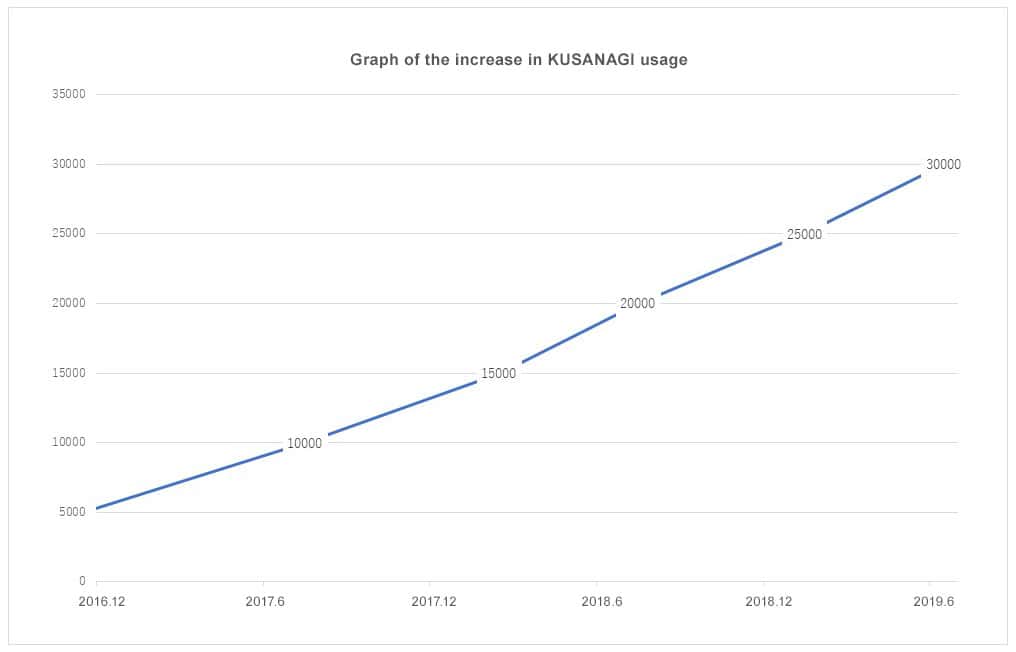 About the ultra-fast WordPress virtual machine KUSANAGI
KUSANAGI (*1) is the free, open source virtual machine image developed by Prime Strategy that runs WordPress at industry-leading speeds. With a quad-core (4vCPU) virtual machine, WordPress execution time is brought to under 4 milliseconds and can handle over 1,000 requests per second, even without page caching. With page caching, and a 4vCPU, KUSANAGI can handle over 60,000 page requests per second.(*2)
*1 For more information about KUSANAGI, click the link below:
https://en.kusanagi.tokyo/
*2 The result at the maximum performance of 4vCPU.
KUSANAGI Development Policy
One in five websites on the Internet today run WordPress. Countless users are enjoying its many merits, and demand for use on large-scale websites has been increasing. The ultra-fast virtual machine KUSANAGI was created to help make this possible. KUSANAGI developers are constantly implementing the newest technology and solutions and maintaining compatibility, improving WordPress' operating environment and usability so that users can enjoy all it has to offer at lightning speeds.
About Prime Strategy Group
Prime Strategy is a cloud integrator based in Japan and across Asia, helping global companies solve their cloud computing issues. With locations in Tokyo, New York, Singapore and Jakarta, we provide cloud integration services around the world. Our main areas of business are cloud integration with, and the development of KUSANAGI.
We have built and provided maintenance/management for web systems and large-scale WordPress sites of industry-leading companies and educational institutions in Japan and abroad, including but not limited to: The Yomiuri Shimbun, Nomura Shoken, Resona Bank, The Japan Times, Bridgestone, Sega Holdings, Family Market, Kokugakuin University, International Christian University. (Abbreviated)
The ultra-fast WordPress virtual machine KUSANAGI was created using virtual machine server-building techniques that we have been developing since 2006. In addition to offering KUSANAGI free of charge on major public cloud services both inside and outside on Japan, we also offer the paid KUSANAGI Official Support Service (*), where we provide all-inclusive maintenance, management, and speed tuning services for customers' websites.
* For more information or to inquire about the KUSANAGI Official Support Service, click the link below:
https://kusanagi-hosting.com/

Prime Strategy CO.,Ltd.
Public Relations: Noriaki Ikemiya, Tadashi Yoshimasa
〒100-0004
Otemachi 1st Square Bldg. East Tower 18F, 1-5-1 Otemachi, Chiyoda-ku, Tokyo Japan 100-0004
Phone: +81 03-6551-2995 / Fax: +81 03-6551-2941
URL:https://www.prime-strategy.co.jp/en/
E-mail:pr@prime-strategy.co.jp
*Company and product titles mentioned in this press release are trademarks or registered trademarks of their respective companies.