Prime Strategy Co., Ltd.
Internationally-Supported Free Version of World's Fastest WordPress Execution Environment KUSANAGI for AWS Now Available
Establishing a Global Support System and Subsidiary in New York
TOKYO – October 30th, 2015 – Prime Strategy Co., Ltd. (hereby referred to as Prime Strategy) today announced the free version of KUSANAGI for AWS, the world's fastest WordPress execution environment KUSANAGI, available for Amazon Web Services (AWS). It is capable of an execution time of 3 milliseconds and 1000 requests per second without page caching.
In recent years, there have been needs for more "expandability", "flexibility", "agility", and "global development", along with increased demands in the WordPress enterprise, so there is a rising interest to invest in AWS which is used by many businesses around the world. To answer these demands, Prime Strategy developed KUSANAGI for AWS, and will offer it to AWS customers free-of-charge starting October 30th, 2015.
KUSANAGI was originally released solely in Japanese, but with KUSANAGI for AWS, it will be available as an internationally-supported AMI on AWS Marketplace. With KUSANAGI for AWS, in a system that was once only used with Japanese environments, you can now change locale, time zone, and language. This ultrafast WordPress cloud computing environment has been implemented internationally for global development with AWS.
In addition, Prime Strategy has established a new overseas subsidiary in New York, USA called Prime Strategy New York, Inc., and it will start business the same day as release, October 30th, 2015. The Prime Strategy Group, with its presences in Singapore, Indonesia, and Japan, will now offer global support in both English and Japanese.
Using AWS, Prime Strategy is able to offer fully managed services that can respond to the needs of worldwide business users who are using KUSANAGI for AWS for sophisticated WordPress site performance optimization as well as globalization.
Prime Strategy Group has already fulfilled requests for fully managed services for major firms that already use KUSANAGI for AWS, and is now strengthening its cooperation with partner businesses and a number of local personnel all over the world. Prime Strategy Group estimates that in its three years of offering KUSANAGI for AWS, it had 72 projects totaling 300,000,000 yen.
Comment from Amazon Data Services Japan Partner Alliance general manager, Yoshihiro Konno
"We welcome the arrival of KUSANAGI for AWS at Amazon Data Services Japan. Currently, WordPress is used throughout the globe, and is growing rapidly in AWS. Presently, with the internationalization of the world's fastest WordPress execution environment KUSANAGI (which has already achieved so much in Japan), and the offering of support in New York, Singapore, and Indonesia by Prime Strategy, we have high hopes for the active expansion of KUSANAGI for AWS."
On October 31st, 2015, Prime Strategy plans to give a presentation of KUSANAGI for AWS at both WordCamp NYC 2015 and WordCamp Tokyo 2015 on the same day.
For details of WordCamp NYC 2015, please visit
https://nyc.wordcamp.org/2015/
For details of WordCamp Tokyo 2015, please visit
https://tokyo.wordcamp.org/2015/
KUSANAGI Private Cloud Framework
・WordPress 4.3
・CentOS 7
・Nginx 1.8
・HHVM 3.9
・MariaDB Galera Server 10.0
・Apache 2.4
・PHP 5.6
・php-fpm 5.6
・virtual machine specs: KVM 4vCPU 4GB memory 10GB SSD storage
For more information about KUSANAGI, please visit
http://en.kusanagi.tokyo/
About Prime Strategy New York, Inc.
Representative: Kengyu Nakamura
Start-up cost: $30,000 (100% from Prime Strategy)
Address: 230 Park Avenue, Manhattan, New York, 10169
Office building: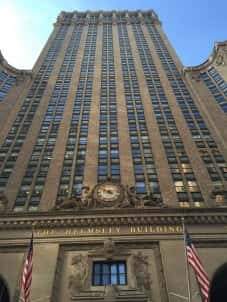 About Prime Strategy Group
Prime Strategy Group is a WordPress consultant operating mainly in Asia. We strive to be the representatives of Asia, and every day we do business related to WordPress. Our main mission is to contribute to WordPress and its community throughout Asia, starting with Japan, Singapore, and Indonesia.
On the business front, we architect web systems for government bodies as well as corporations that represent both domestic and foreign industries. These include the Japan Aerospace eXploration Agency (JAXA), the University of Tokyo, TV Asahi, Mynavi, Adobe Systems, JTB Asia Pacific, and Bank Negara Indonesia. We have also constructed many large-scale WordPress sites in Japan.
For inquiries related to this article, please contact Fukami or Yoshimasa, our public relations managers at Prime Strategy.
E-mail: pr@prime-strategy.co.jp
Address  Otemachi 21 Bldg. 5F, 1-4-1 Uchikanda, Chiyoda-ku, Tokyo
URL: https://en.prime-strategy.co.jp/
TEL: 03-5577-6176 / FAX: 03-5577-66433
Amazon Web Services and AWS are registered trademarks of Amazon.com, Inc.
All other products and names are registered trademarks of their respective companies.